Events loading...
Senior Capstone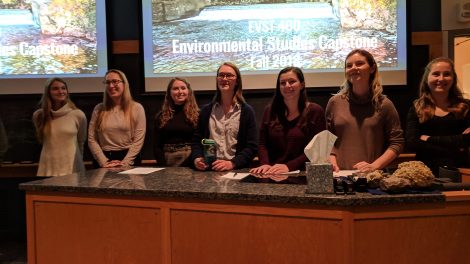 The 2018 Capstone students recently presented their work relating to restoration of Bushkill Creek near 3rd Street as part of the dam removal studies that are currently underway by Wildlands Conservancy and Princeton Hydro. The class divided into three teams, each with a different focus. Each team conducted extensive research and met with local stakeholders and experts. The concept plan team worked on a conceptual plan for a green space that would link campus with downtown, provide better access to the stream, and enhance the connection to the Karl Stirner Arts Trail. The ecological restoration team worked on a plan for removal of invasive plants and restoration of the riparian buffer along the stream near the dam site. The communications and outreach team developed a project website (https://sites.lafayette.edu/bushkillrestoration/) that will serve as a central clearinghouse for information about the dam removal project. Clients for the project include Lafayette College, the Karl Stirner Arts Trail, and Wildlands Conservancy.
Visit the project website
LaFarm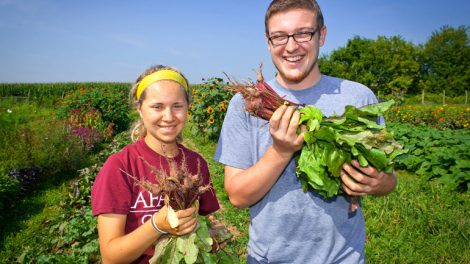 The Community Garden & Working Farm is a site for teaching, research, outreach, growing healthy food, and building community. Our daily work and our long-term goals aim to build an understanding of the critical role of food and farming in environmental stewardship.
Learn more about lafarm
In Practice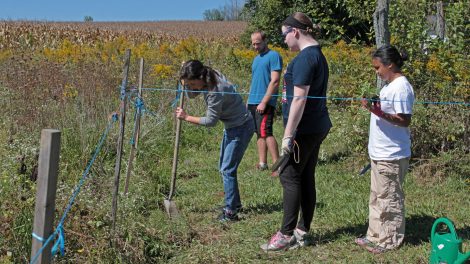 Sept 2016. As part of our ongoing efforts to address ecological sustainability, EVST students recently planted native perennials (Little Bluestem, Obedient Plant, Grey-Headed Coneflower, and Indian Grass) along the buffer area and drainage swale at LaFarm. The project was funded by a grant from the Lehigh Gap Nature Center's Landscaping for Communities and Wildlife program. Past ecology projects at LaFarm have included installation of a bee hive, bluebird boxes (a local Eagle scout project), plantings that attract pollinators, and protecting milkweed from mowing.